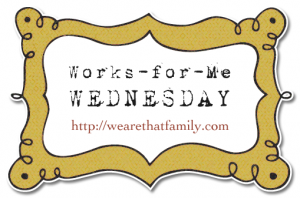 I am by no means a great photographer. I would like to be, but I don't have the equipment or know-how to take really good pictures. I have a point & shoot Olympus that is about 5 years old, and I mainly just take candid shots of the kids.
I daydream of having a
great camera
and
Photoshop
one day, but it's just not in the budget right now. What is in the budget right now?
Picasa
.
Picasa
is a free, downloadable photo-editing software from Google. It has all the basic tools you would need for casual editing - red-eye correction, retouching, lighting correction - plus a few extra "special effects" tools. It's easy to use and you can't beat the price!
Picasa works for me!
For more great tips, visit
Works-For-Me Wednesday
at
We Are THAT Family
!