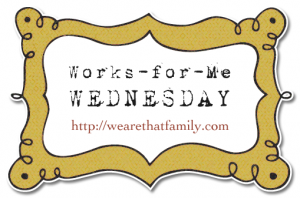 Things have been a bit chaotic around my house since...um...well, since I got pregnant with David. (That was September of 2008.) Since then, I don't think I've even once felt like the house was all the way clean, or organized, or peaceful. I desire that so much, and it's so hard to attain!
I'm kind of an all-or-nothing person. When I decide to change something, I go in with high energy, wading deep into the mess and re-doing a whole room in an afternoon. The problem is that right now I don't have the time, energy, or attention to devote to finishing a project like that. I can't revamp my whole house in a weekend. I can't schedule our days down to 15-minute increments. Someday those things might be possible, but not in this particular crazy-wonderful season.
Instead of tackling everything at once (or ignoring it since I can't do it all), I'm trying to take baby steps.
So I can't organize the whole dining room (which is our catch-all place)...

I can organize that one shelf over there.
So I don't have time to straighten the entire downstairs so that I can vacuum...

I can pick up the toys in the kids' room and vacuum in there, at least.
So I don't have time to fold all of the accumulated laundry and put it all away...

I can fold one basket of clothes & put it away while the kids are watching Dora.
Baby steps toward organization might just save my sanity!
For more great ideas, visit
Works-For-Me Wednesday
at
We Are THAT Family
!