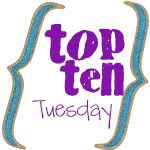 At our house, one of the most commonly-used dinner ingredients is ground beef. It's fairly inexpensive, easy to freeze, and easy to use in lots of different ways. All too often, however, I find myself staring at a thawed portion of ground beef and I draw a blank. I have no idea what we should have, and I find myself desperate for
dinnspiration
. (See what I did there? Dinner + Inspiration? Nevermind.)
Here's a top ten list of easy dinners using ground beef:
1. Tacos
- ground beef, taco seasoning, toppings, tortillas, DONE.
2.
Chili
- this is an easy, mild chili recipe that can be made in the slow-cooker or on the stove.
3. Spaghetti
- sometimes I go all-out and make my own sauce, but usually I just use Prego. It's yummy and fast.
4.
Tater-tot casserole
- there are many different variations of this, but they're all pretty good! (And none of them are even remotely healthy.)
5. Vegetable-beef soup
- ground beef, mixed vegetables, beef broth, brown rice, and whatever seasonings strike your fancy. Yum!
6.
Stroganoff
- one of our family favorites. We love it with noodles, with white rice, with brown rice, and even with mashed potatoes.
7.
Sloppy Joes
- we love sloppy joes, but we usually serve them as open-face sandwiches, to be eaten with a fork.
8.
Meatloaf
- confession: I never use a real recipe for meatloaf. That being said, it doesn't always turn out the way I would like it to. I'm going to try this recipe next time.
9. Burgers
- especially if you have a good grill. We only have a charcoal grill, and we seldom use it, but I'll occasionally make burgers on the stovetop.
10. Mac & Cheese
- okay, this is kind of cheating. James grew up eating Kraft Macaroni & Cheese with ground beef & frozen mixed vegetables added. You know what? It's good. It's really, really good. Also? Fast. Cheap. Kid-friendly.
What dinners to you make with ground beef? What's your fallback recipe?
Visit
Top Ten Tuesday
at
OhAmanda.com
for more great lists!